Over many years and many different trainings Nikki Cutler has developed my way of communicating ,co-creating and being with animals.
I would love for you to explore how you can and what is your way. It's so important not to put our conclusions on animals, in the Horses and Us Clinic we ask the horses questions, we open the conversation.
This class is an introduction to using energy tools for ourselves, the Horses and for our everyday lives. I like to call it practical magic.
This is also a weekend for you. To relax into your awareness, to receive and to feel yourself become lighter and stronger.
No horse experience necessary, we always have a mixture of horse people and those who have never been around horses.
Now is the time to acknowledge the horses and all animals and to co-create with them. They have deep wisdom to share with us and a perspective that includes the Earth.
If you have any questions call Nikki on 0868579873 If you'd like to bring a horse contact Gina in Carrowgar Stud. gina@equineconnectie – 0879021666
It's a relaxed and fun class and you are very welcome. Many people choose to come to more than one as each time it's different with different horses which gives a rich experience. We learn so much at each clinic.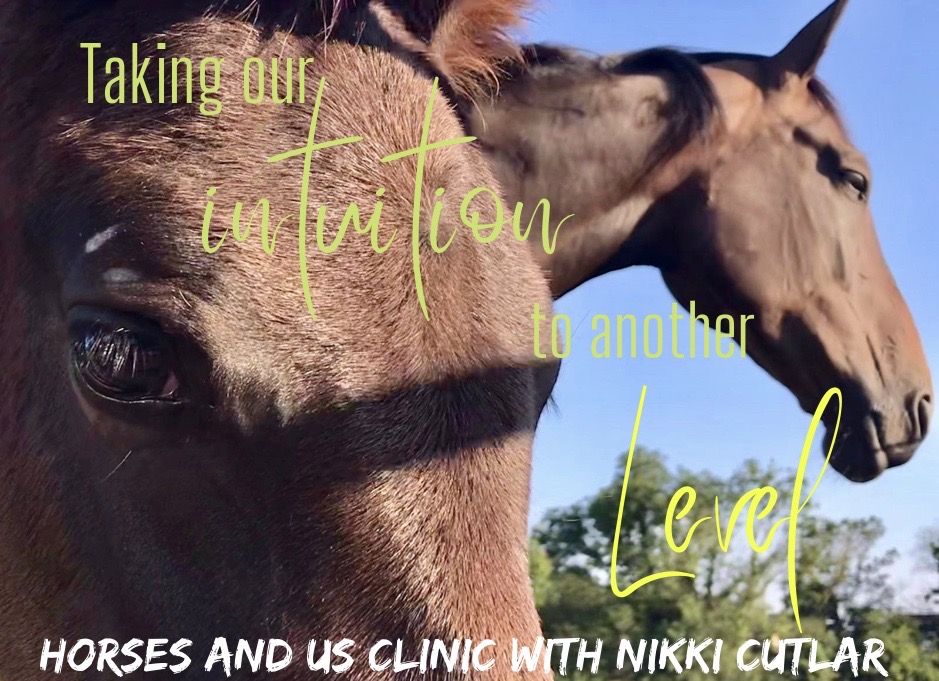 A few kind words from Nikki's clients
Just like to say many thanks to Nikki, Gina, all the beautiful horses and the magnificent people I met on this weekend. It was warm, friendly and like a little bubble of love that you could come and relax into. No matter what happened, the calming presence of the horses (and nature) was there to hold, support and ground us too

Anita
The Horses and Us weekend was hugely heart opening. I loved the deep listening from the heart and communicating with the horses from that space. I'd recommend it to anyone who'd like to experience the joy of really being with the horses and them being with us.

Karen Clancy
Who's an animal lover??

I would highly recommend this heart opening weekend course for anyone who feels the call! 2 days in a beautiful location surrounded by horses and wonderful people. Healing, fun and magic..

Disclaimer: will probably change your life and open your heart & mind to things you never thought possible.

Phillip Walsh
Nikki's Horses & Us class was a beautiful reminder of our true relationship with horses. I loved her way of being with the horses and us so that everyone received more awareness, peace and joy. Nikki's sense of possibilities for the horses and their owners is gently transformational and creates greater connection in magical ways. If you love animals and you're thinking of participating in this event I'd highly recommend it

Lisa Murray
Nikki's courses with the horses are just wonderful. They are really powerful in such a gentle and profound way. She is so present and the horses are so present and incredible things happen over the weekend, the change you see in both the horses and humans present is undeniable. I have been very ill with a chronic illness the last few years and the only times I have felt fully well and vibrant in those years have been after the horse weekends with Nikki, such wellness! I'd recommend them to anyone

Roisin Coyle
I didn't really want to do yet another workshop, but I needed help with my mare and there comes a point when training techniques, however " natural ", don't do the trick anymore.

I didn't understand what my mare needed. Nikki is a very clear and intuitive teacher. With her help and with the whole group participating we got an insight into my mare's old traumas. It was like jigsaw pieces creating a whole picture.

She was willing to help us release them. It was her choice and that is so important ,to ask for permission ! I got a huge release for myself as well. A deeply touching and emotional experience. Being part of working with other horses was a great experience as well and each one so different. But it is not just in connection with horses. The tools we learned apply to all areas of life.

I take one day at a time now and I get more permission than refusal from my mare. She is softer and more open. Feels like a new beginning with open destination.
Thank you Nikki and the whole group of humans and horses !

Tina de Burca
Dear Nikki,

I know I'll be thinking about this weekend for a long time to come. The healing I have received and the lessons gifted to me will influence my path, and for that I am truly grateful. I quietly and cautiously joined this group, hoping that if I simply turned up, the rest would take care of itself, and it surely did. Your energy is bright, loving, open and generous. You have a beautiful way of sharing knowledge and deep healing experiences in a very gentle way. It feels like a natural conversation where you let the ideas float out and whoever is ready to accept it can take it. I felt free to move at my own pace, and for me this is essential when the healing is so emotional and transforming. I usually prefer to avoid new groups of people – (I have little interest in 'chit chat' ) Many times over the weekend I thought 'wow', it's so refreshing and inspiring to be around a group of grounded, gentle, intuitive people where we could have great conversations about things I care about. It was very clear to me what I could learn from each person in the group. I am so very thankful for all that I received and experienced.

The horses!! I learned so much. The exchange of healing energy between the group and the horses was magical. I related to so many of the healing themes, and I'm sure this must be due to how intuitive you were to the needs of the group. I especially loved the focus on past lives. I have great respect for Gina. She provided a strong, calm, grounding presence, and lifetimes of knowledge! I always felt safe. She is so generous to share her precious relationships with her horses with us. Many times over the weekend I sensed the presence of spiritual beings. For me this confirms that the work you are both doing is sacred and powerful.

Finally, it's important to mention how well organised the weekend was. Everything flowed smoothly. Being able to make a herbal tea when I needed it, and have snacks & lunch catered to my dietary preferences – they might seem like small touches, but it really helped avoid any stress and make me feel welcome.

I'll be experimenting with expanding my consciousness and all the other tools you gave us! It's nice to know you are here in Galway, you'll be the one I contact when I need any kind of healing.

Thanks so much for all you gave this weekend.

Catherine
I didn't know what to expect from the horses and us clinic but it far exceeded anything I could have expected.

Fab from start to finish.

Thanks Nikki

Marie Fitzgerald