"And into the forest I go, to lose my mind & find my soul"

John Muir.
Higher Ground started back in the Summer of 2020. What began as a group chat amongst friends soon snowballed into a community of lunatics and lovely folk alike. Our mission: seeking pastures wilder & more vertical than from which we dwelled while promoting only positive energy. Friends new & old, tame & bold joined in on our adventures around Irelands 4 provinces.
The group looks to get out hiking at least once a week and while the majority of members are Dublin & Kildare based, we have a solid representation from all 4 corners of Ireland. Group numbers vary from 2 people to twenty odd but we always say numbers don't matter as long as you're getting out there, be it by yourself or with a group, just do it.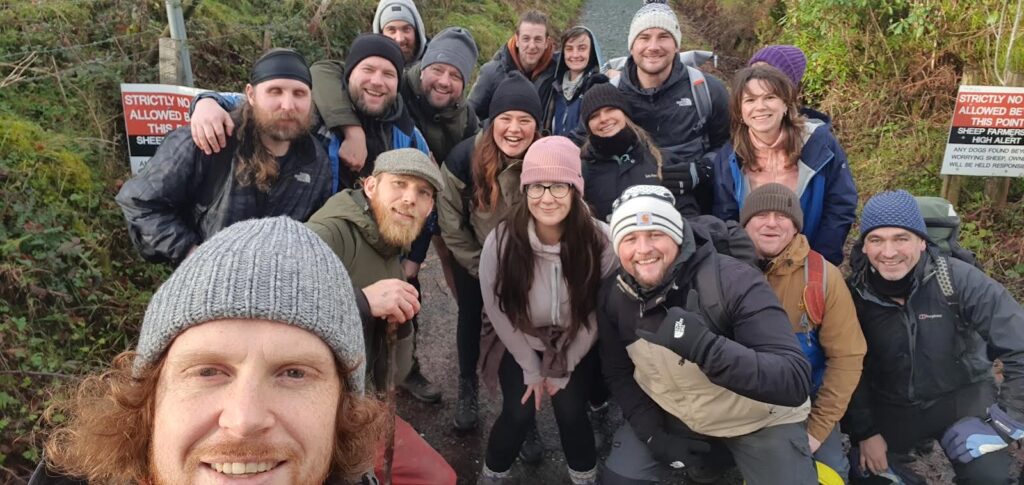 The great thing about getting out there with a group is the integration, the knowledge sharing and the craic we do have. I've met so many interesting people through the group I now call friends. Always coming home with a list of things to look into from what people have shared on the hike. We picked up new members through any aul means, some on the mountains, some at events & retreats we'd attend, some through social media but mostly it's been through word of mouth – friends of friends. Members are responsible for who they swear in, much like in the mafia. I jest. We hit close to 200 members pretty quickly and were at the time worried that perhaps WhatsApp (with its 256-member limit at the time) wasn't the best platform for what we had on our hands.
We set up @highergroundhikes on Instagram to showcase some of the highlights of our adventures but, in all honesty, we had intended on doing so much more with it, promoting hikes and growing & engaging with the community. Something for 2023 I guess 😉. WhatsApp also increased the limit to over 1k – horrifying as that may sound to a lot of you!
Hiking, in my opinion, is one of the best happiness hacks and let me prove it. We have 4 hormones in our brain responsible for happiness – Dopamine, serotonin, oxytocin & endorphins. Dopamine is the reward giver and climbing a mountain really does give one a great sense of achievement and, in turn, a massive release of dopamine. Serotonin is known as our mood booster and is released when we workout (17k steps and 800m vertical should do it) and also when we expose ourselves to natural sunlight (fortunately even through the clouds) we get a fix.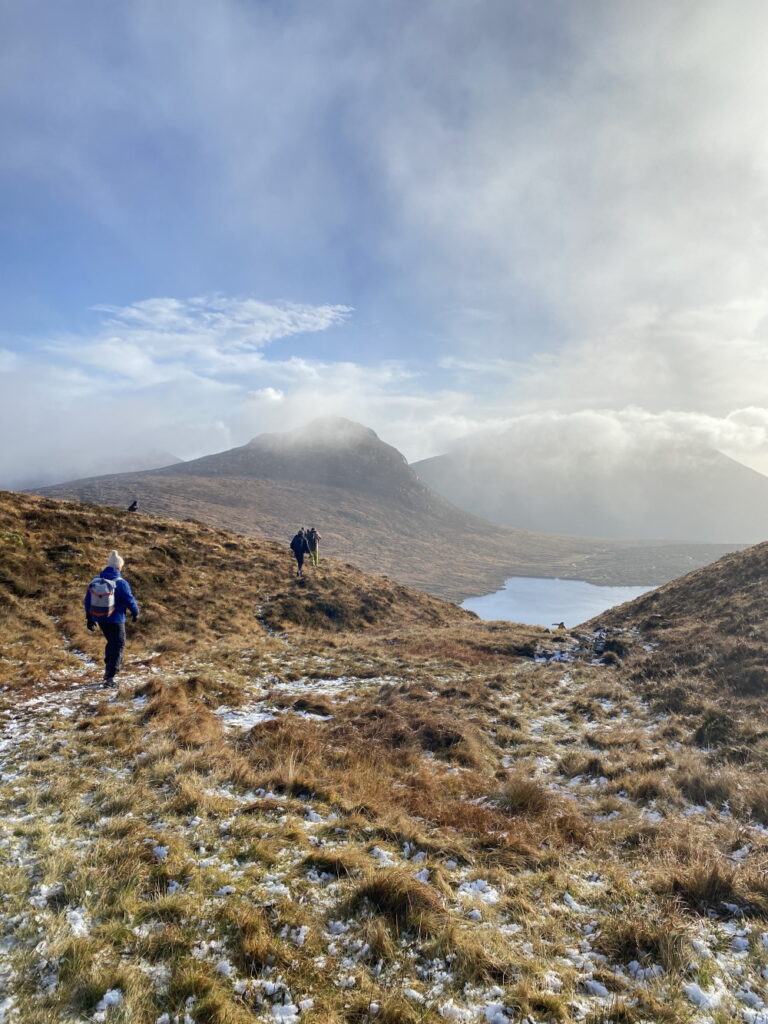 Still not convinced? OK how about our little buddy Oxytocin aka the love hormone. Oxytocin is released naturally when we spend time with friends and we're all friends up on the hills. It's also released when we spend time with pets and so shoutout to our resident four-legged friend Kush.
Well you should be rushing out to order yourself a new pair of hiking boots right now but if you haven't been convinced as of yet then let's look at the Endorphins. They reduce stress. Endorphins are released when, like serotonin, you work out, and also when you laugh or cry. We hope more the former but we've had a few tears on them there hills too and that's all part of it! At the end of all that and if you're not too wiped, you may care to run yourself a hot bath with some essential oils (lavender, rosemary or citrus) on your return home, we have another couple of boosters there.
The group has become so much more than a hiking group. It's a community where ails are healed and spirits grow. We've spent weekends away together in cars, tents, caravans and Airbnb's across Ireland and overseas to Scotland to climb Ben Nevis and to France to the Pyrenees. We've always been hikedelic friendly but the majority of the time we just enjoy as is. We forage in season 😊
We Attend different wellness events such as cacao ceremonies, sound bathing, sea swims and Moonstock in Portmarnock ran by Paddy Douglas @breathetrustflow is always a constant too. It's a platform for people to share their wares and services as well. A place to ask questions and get insightful answers. It's a place for fun and we'd like to have you onboard!
About the post author
Hey, I'm Ray & that's all the rhyming I have for today. Strangely, I've never met Vivienne in person. We're in the same circles though & I'm sure if you're reading this you are too! I'm a founding member, qualified mountain leader and chief whip cracker in the Higher Ground hiking group along with one or two others. I love all the simple things: nature, adventure & travel, keeping active and eating good food and listening to good music. I'm an animal rights activist and have been vegan for just over 3 years.
I currently work in the travel industry so I'm trying to milk (soy, of course) that for as long as it lasts. The job itself doesn't feed my soul though and, with this in mind, I'm looking to branch out and get Nativitree – a native Irish tree planting non for profit off the ground. I've been told in the past when giving a presentation to try not talk about yourself for too long, this is a bio mind but I'll keep this short all the same. Peace & love ~ @highergroundhikes