Morning
Ceremonial Cacao Celebration Peach Bellini (served cold)
Pachamama ceremonial cacao x 20g
Lion's Maine Mushroom powder x 1g
Champagne essence (can be substituted for actual champagne or prosecco to taste)
Peach essence (can be substituted for peach syrup from a can of tinned peaches) ….taste as you go. Peach is a delicate flavour, you may need more than you think!
Blue Lotus power (too many benefits to list but will add a grounding sparkle to the day) Irish suppliers available on line
Agave syrup to taste (dependent on the individual) honey will be the most available sweetener. Just try make sure its made as local as you can get it…within reason of course.
Method
Heat clean water while the chopped 20g of ceremonial cacao is dissolving. DO NOT BOIL!
When dissolved, add Lion's Maine champagne essence/champagne, peach essence/peach syrup. Add Agave syrup to taste (agave being my natural sweetener of choice as of its high glycaemic index properties).
Add small amount of Plant based milk of choice. Personally I use oat milk for this as the flavours compliment each other. It's also a good milk to create a froth with if that's what is required.
One of the many benefits of Lion's mane is mental focus…for the day that's in it.
Piece of wood in picture in Paulo Santo. Used for cleansing, crystal in picture used for calming. Flower in picture, Blue Lotus
Note: If adding milk of choice make sure it is not dairy. (Cacao reacts to dairy produce)
Serve cold with ice cubes….among many other things Lions Mane many benefits is cognitive function…. Set you up for the day ahead.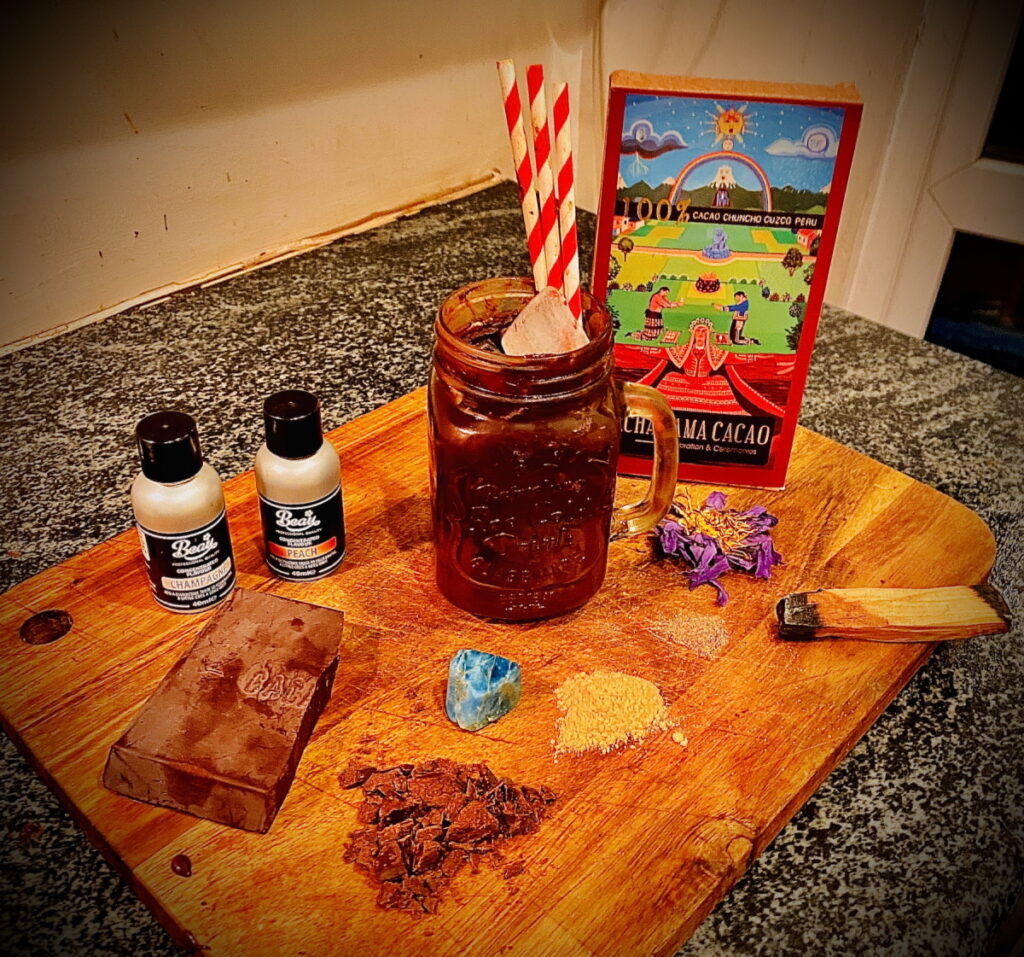 After Dinner 'Petit Fours'
Small nibbles served before or after the desert
Flavours x 4
Mint…….mint essence (substitute) for fresh mint chopped up/ground. Mint digestion.
Cinnamon….helps with circulation and blood flow (powdered is preferable as of the process)
Blueberry……helps with cognitive function (if essence isn't readily available, Dried or fresh will do)
Rose …… Heart opening (if essence isn't readily available, powdered or chopped up petal's will do
Method
For Four squares of chocolate per person (20g per square)
Have 4 separate smaller mixing bowls ready
Melt 80g of at least 70% dark chocolate…once chocolate goes above 70% dark it's generally dairy free but do check! (20g per square)…. This allows for spillage and chocolate left in/on bowl or spoon. Let the kids have a lick of the spoon or have one yourself, you know you want to! Add Agave syrup to taste.
Add 12g of Pachamama Ceremonial Cacao
Add 4g Cordyceps mushroom powder
Weigh out in separate bowls:

1 drop of mint essence (4/5 finely chopped mint leaves)
1g cinnamon powder
1 drop of blueberry essence (1g frozen or fresh blueberry's mashed)
2 drops of rose essence (1g of ground rose petal's or powder)
NOTE – do not use Rose water. Water does not emulsify with chocolate

Pour in 19g of the Cacao, Cordyceps and Chocolate mixture into mixing separate mixing bowls and stir vigorously (doesn't have to be over heat). Pour into separate moulds.
One of the Many benefits of Cordyceps mushrooms is energy and vitality…to get you through the day.
One of the Many benefits of Cordyceps mushrooms is energy and vitality…to get you through the day.
Picture includes Chocolates with Pink and gold edible gold dust. Available online but if you can, you get these dusts and a whole lot more in a place called 'The Sugar Sisters' located on the Quay's in Dublin City centre. Always better (if possible, to buy as locally as possible….even if your trying to be fancy) they have all products on their website too.
Sage stick – for cleansing……. after a full day of family, do I need to say anymore?
Cinnamon stick– Just for decoration.
Porcelain Mushroom – Got to keep those spirits up.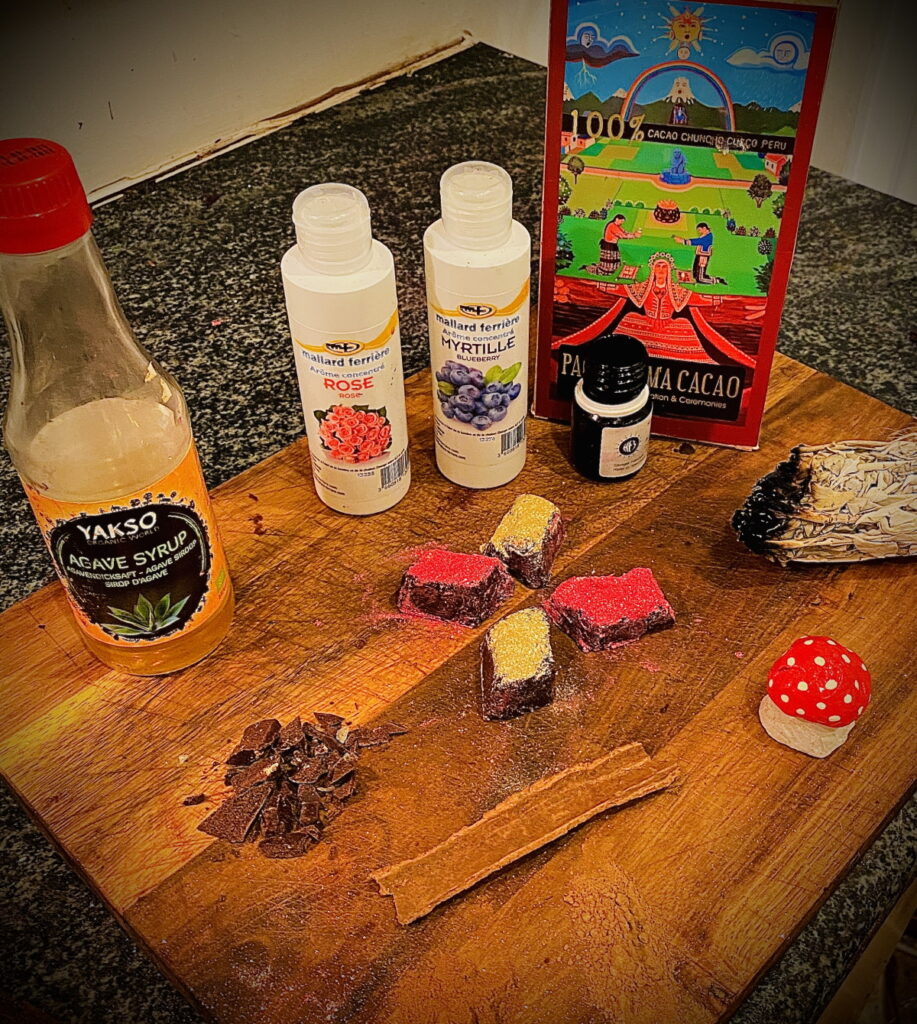 Supper joint easing Elixer
After the indulgence of the day, your going to need some medicinal…. Why not make it Ceremonial Cacao?!
Ingredients
10g Pachamama Ceremonial Cacao
1g Reishi mushroom
2g turmeric
Cayenne pepper, to taste
Black pepper, to taste
Pink rock salt, pinch
Agave syrup to taste
Vanilla essence to taste
Method
heat 100ml of clean water
add 10g of Pachamama Ceremonial Cacao
whisk until dissolved
add 2g turmeric
add 1g Reishi
add cayenne, black pepper and salt to taste
add agave syrup to taste
add 150ml of nut milk of choice. Milk use for photo is coconut milk as it give a longer standing froth.
Reishi mushrooms have many health benefits but two of which and over all nervous system balance and sleeping aid
10g of Ceremonial Cacao in the evening will also promote lucid dreaming
Picture includes Rose quartz crystal lamp, bought locally, Sprinklings of edible iridescent pink champagne gold dust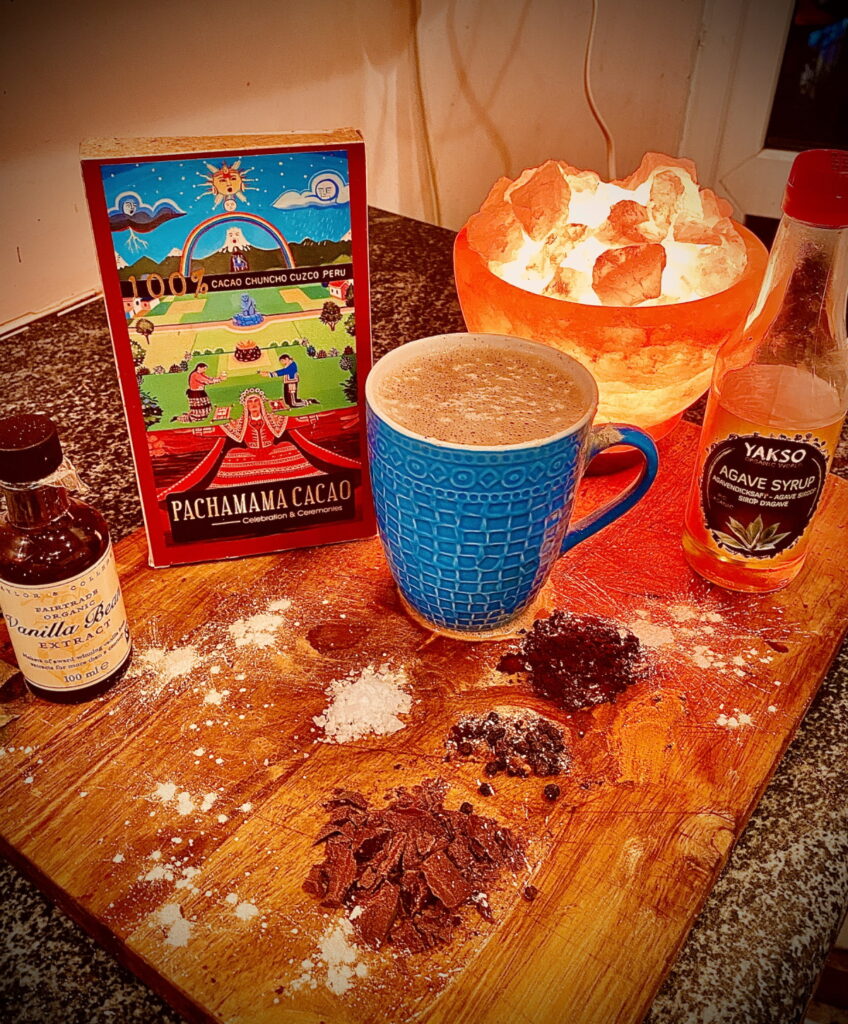 Final Note
The recipes and photos are all hand made and hand taken and are supposed to look and feel rustic. It's a very busy and draining day both mentally and physically, don't push your self over the edge trying to be a perfectionist!
……also if you've had all of the above, you've had 42g of Ceremonial Cacao throughout the day, that account to a full ceremonial dose given a official cacao ceremonies. Happy Christmas
Too much coming your way from me to mention so I'll just leave you with watch this space again, thank you.